This course will be beneficial to you regardless of which blogging platform you use. However, some advice in this course will focus specifically on self-hosted WordPress blogs (in regards to themes and plugins). WordPress is a recommendation, but not a requirement when it comes to benefiting from the course. However, if your blog isn't self-hosted, I highly recommend that you consider making the switch to WordPress.

A common question I get from new bloggers is "What is the difference between WordPress.com and WordPress.org?" This is a great question. In the beginning, I was confused about the difference between the two platforms as well. In this lesson, I'll discuss the difference between WordPress.com and WordPress.org, and why I recommend choosing WordPress.org for your blog.
---
---
Part 1: WordPress.com (Free-Hosted)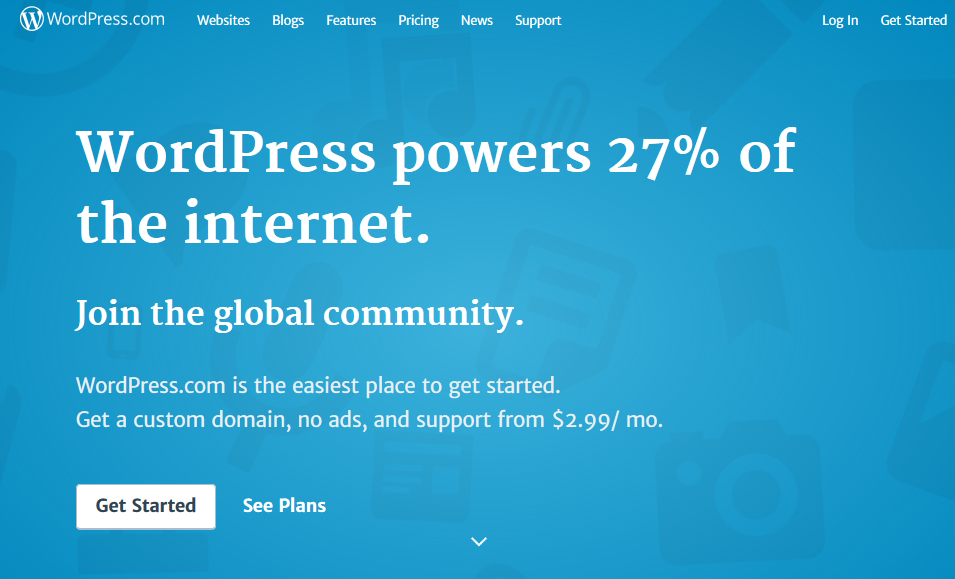 WordPress.com is a free-hosted version of WordPress. Free-hosted means that instead of you paying for hosting, WordPress.com hosts your blog at no charge to you.

1.1. Why I Don't Recommend WordPress.com

I do not recommend using WordPress.com for your blog. When you have a WordPress.com blog, you are limited with what you can do with your blog.
A. You Don't Own Your Blog
When you blog at WordPress.com, you own your content; however, you don't own your blog, WordPress does. That means if you ever violate their terms of service, they have the right to delete your blog without notice.
B. They Place Ads on Free Blogs
WordPress reserves the right to place ads on all free blogs. If you want to have the ads removed, you will have to upgrade to a Personal Plan, which costs $35 a year.
C. You Can't Upload Third Party Themes
You know all of those cool themes you see online? If you're using a WordPress.com blog, you won't be able to use them. The themes available for WordPress.com blogs are all pre-selected. You have the option to upgrade to a Premium Plan for $100 per year if you want to change the colors and fonts of your theme; however, upgrading will not give you the ability to upload themes available from third party websites like my own.
D. You Can't Install Plugins
Plugins are an excellent way to add functionality features to your blog. Without the ability to install plugins, you are limited with what you can do with your blog.
E. You Can't Use Google Analytics

Unless you upgrade to a business plan for $300 per year, you cannot add Google Analytics to your blog.

When it comes to traffic statistics, Google Analytics is the industry standard. In fact, if you ever decide to work with sponsors, they will ask for your Google Analytics data.
---
---
Part 2: WordPress.org (Self-Hosted)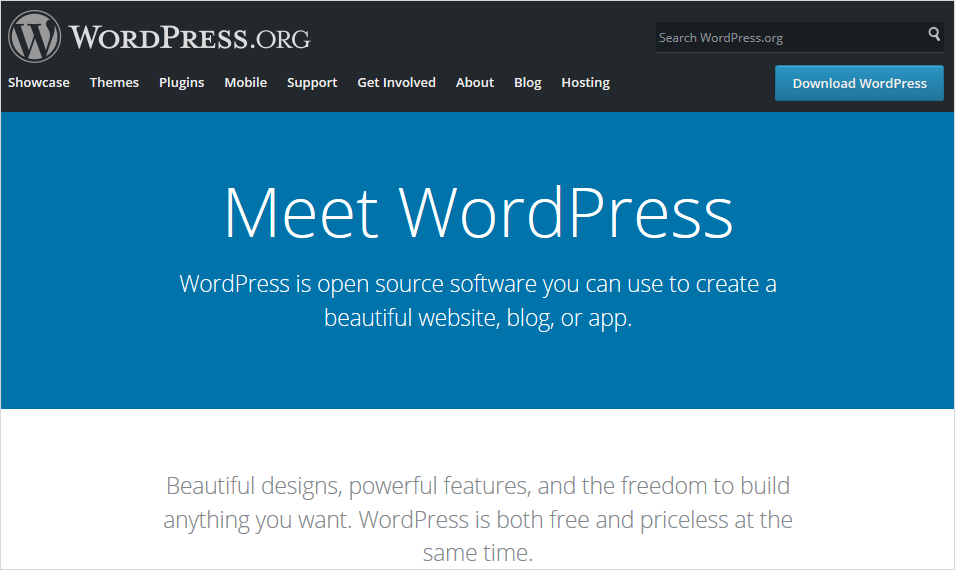 WordPress.org is a free online software. When you have a self-hosted WordPress blog, you will need to purchase a domain name and hosting plan for your blog. Domain names cost around $10.00 per year, while hosting prices can range anywhere from $3.95 - $12.00 per month. In order for WordPress to work, you must first install it on your web host.
2.1. Why I Recommend WordPress.org

A. Installation is Easy
Most web hosting services offer one-click WordPress installation, which makes it easy to set up your self-hosted blog.
B. You Own Your Blog
As a self-hosted WordPress user, you have complete ownership and control over your blog.
C. You Can Upload Third Party Themes
With self-hosted WordPress, there are thousands of third-party themes available to you. Furthermore, you are free to edit the HTML, CSS, and PHP to further customize your theme. Having the ability to customize your theme allows you to have a blog that's unique to you.
D. There Are Plenty of Blog Designers Available to You
If you ever want to hire a blog designer to customize your blog, there are tons of designers who specialize in the design and development of WordPress.org blogs.
E. You Can Install Plugins
As a self-hosted WordPress user, you will have access to thousands of plugins that extend the functionality of your blog.
F. They Have a Large Community
There is a large community of WordPress users out there if you ever need assistance with your blog.

---
---
Part 3: Getting Started With WordPress
If you want to get started with self-hosted WordPress, here are a couple of resources to get you started.

A. How to Start a WordPress Blog: A Step-by-Step Guide
In this guide, I show you how to start a self-hosted WordPress blog from scratch. The topics covered in this guide are:

How to choose your domain name

How to purchase your domain name and hosting plan

How to connect a previously purchased domain name

How to install WordPress

How to install Google Analytics

How to set up Google Search Console

Easy WP Guide is a free, simple, and easy to read WordPress manual. You can download the manual as a PDF, or you can read the manual online.

---
---
In Conclusion:
Having a self-hosted WordPress.org blog is a smart move, especially if you have plans on growing and monetizing your blog. Self-hosted WordPress blogs are looked at as being more professional, which is why they're a top choice for professional bloggers. Going self-hosted is easy, affordable, and will allow you to grow your blog without limitations.